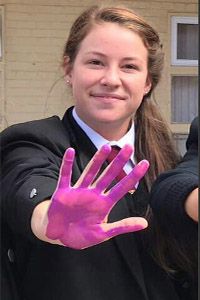 My name is Kyla Horn. I am a grade 10 student in Pro-Ed Academy. I did Career Direct in 2016 to help me decide which subjects to choose.

My experience with the programme has been absolutely amazing; it helped me get a better perspective on who I was. I am now a successful grade 10 student. My Career Direct results have shown that I am a very creative person who also loves numbers and research. This made me take completely different subjects in grade 10 than what I originally would've chosen.

I started taking Engineering Graphics and Design (or Technical Drawings) this year where the other students had it from grade 9. I am flourishing in the class and received an A-symbol for my first term. This broadened my horizons to consider becoming an Civil Engineer one day.

To create a balance between my creative and academic sides, I am also taking Physics. When becoming a Civil Engineer, both Engineering Graphics and Design and Physics play an important role in you education.

I am also an art student and enjoy getting messy with paint. Career Direct clearly pointed out that I have to take art classes. I enjoyed doing arts and crafts at home but have never received formal art classes. Career Direct encouraged me to take art classes at school and my art skills have improved dramatically.

Thanks to Career Direct, I am a happy grade 10 student, doing the things I love.